Business, Management and Governance International Conference (BMAGIC) 2021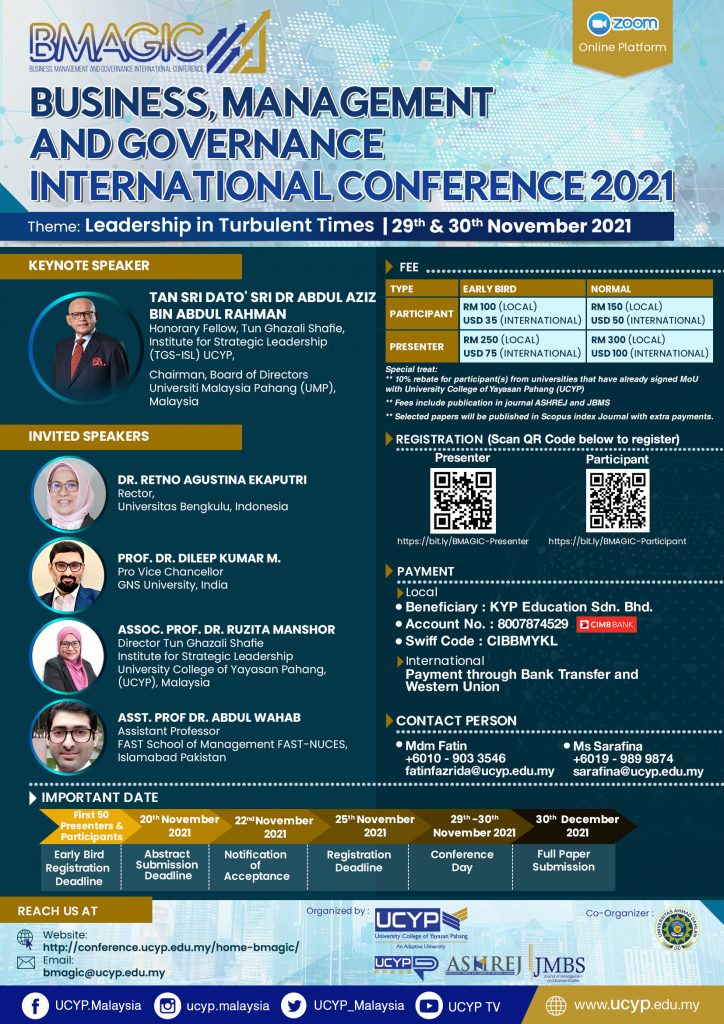 "Leadership in Turbulent Times "
Any organization may experience unwanted situations that lead to chaos, a downturn, or even a crisis. Because of this, leaders who are not prepared for managing a crisis situation or are leading an organization in a turbulent organizational environment will have a negative impact on the organization. Thus, the purpose of this conference is to create the space for dis

cuss.



BMAGIC is an platform for academic discussion event in which participants will share their research findings and gain new knowledge from local and international perspective in leadership in turbulent times.
Advancing teaching & research in the region and the promotion of international cooperation among academician and industries.
To create space for discussion and information sharing platform for researchers from various institutions and industrialists regarding their finding through presentation and publication mechanism.
To share best practice and research on current trends in leadership in turbulences times
To provide researchers, classroom practitioners and education leaders with an academic forum to network and meet like-minded professionals
Topic Areas
This conference covers 26 areas:
Accounting

Banking

Business

Economic

Entrepreneurship

Finance
Marketing
Supply chain
Logistics
Transportation

Tourism

Hospitality Management
Human Resource Management
Administration
Occupational Safety and Health Management
Law
Business Law
Social Policy and Sociology
Business Communication
International Business
Educational of Management
Leadership
Entrepreneurship
Event Management
Halal Business
Abstract Guideline
1. Title: Bold, Font size 16, Times New Roman
2. Author(s): Italics, Bold, font size 12, no abbreviations, indicate affiliation of each author and give e-mail address of author (s).
3. Text: Microsoft Word, Times New Roman 12, one paragraph, justifies & single spacing and maximum 300 words. Space after paragraph 4 pt, margins: Top: 2 cm, Bottom: 2 cm, Right: 2 cm, Left: 3 cm.
4. Keywords: 3 – 7 words.
5. Bio-profile (s): Name, Job & Name of Institution, Educational Background, Research Interest (Times New Roman 12, & Not more that 100 words)
E-Certificate

E-Seminar Kits

Free publication in Asian Social Science and Humanities Research Journal (ASHREJ) and Journal of Management and Business Studies (JBMS)
Type

Participant

Presenter

Local

International

Local

International

Normal

RM 150

USD 50

RM 300

USD 100

Early Bird

RM 100

USD 35

RM 250

USD 75
Special treat:.
**10% rebate for participant(s) from universities that have already signed MoU with University College of Yayasan Pahang (UCYP)
**Fees include publication in journal ASHREJ and JBMS
**Selected papers will be published in Scopus Index Journal with extra payments N.B. ParticIpant (s) from universities that have already signed MoU with University College of Yayasan Pahang (UCYP) will get 10% rebate.
Payment can be made by transferring to CIMB Bank Malaysia
Beneficiary : KYP Education Sdn. Bhd

Address : Level 2, Kompleks Yayasan Pahang, Tanjung Lumpur,
26060 Kuantan, Pahang Darul Makmur,
Malaysia. Tel. +609 534 3999
Account No. : 8007874529
Bank Name : CIMB Bank - Malaysia
Swiff Code : CIBBMYKL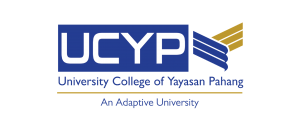 Faculty of Management & Research Management Centre